Romantic Recipes for Two - A Complete Three-Course Menu
Posted by admin on July 16, 2015
It's date night... in lockdown! Do you want to impress your significant other - but what should you cook for a romantic meal at home? This could be just the menu for you.
We've compiled a mix of fast, simple cooking with delicious flavours and sharing plates. And we've matched the wines for each course, so you'll wow them as both chef and sommelier. This 3-course menu could give you the helping hand you need when looking for dinner date ideas at home.
Starter
Crab and Citrus Salad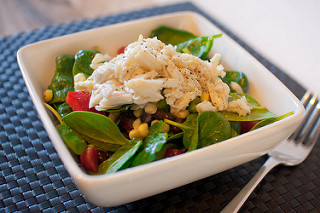 Not only is this a light intro to the main dish, it can be made hours ahead, leaving you plenty of time to get ready for the big night, which makes it an ideal starter.
Ingredients:

140g white crab meat
1 orange- peeled and segmented, keep the juice to one side
1 grapefruit- peeled and segmented
1 tsp chopped chive
1tsp chopped dill
2 tsp mayonnaise
Large handful of baby salad leaves
2 slices of soda bread
Method:

Mix the crab with the orange juice, adding the salad leaves, herbs and mayonnaise. Season to taste.
Toss the grapefruit and orange among the salad leaves and place on top of the bread before spooning the crab mixture on top.
Best wine: A Pinot Gris will compliment a cold, citrusy crab dish.
Main
Chilli Butter Prawns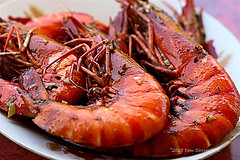 This sharing dish will bring you closer together over the meal. It's super quick to cook, meaning you won't be away from the table for long. Just make sure you have some finger bowls on standby.
Ingredients:

25g butter
2tbsp olive oil
3 cloves garlic
1 red chilli, finely chopped with seeds
½ tsp paprika
20 large king prawns (in the shells)
juice of 1 lemon
small loaf of crusty bread
Method:

Melt the butter and oil in a frying pan. Add the garlic, chilli and paprika, frying until the garlic goldens.
Throw in the prawns and cook until pink before stirring in the lemon juice.
Serve in the pan, eating with just your hands and the bread to mop up the juice.
Best wine: A dry Gewurztraminer will tone down the spice of the chilli. Avoid red wines with this dish.
Dessert
Indulgent Chocolate Pots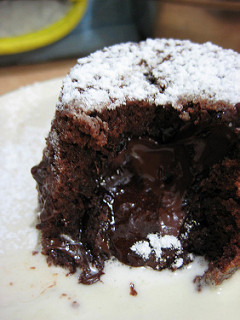 Once again, these taste delicious, but take minimal effort to prepare. They can also be prepared in advance, leaving you with less to do when your date is there.
Ingredients:

100g good quality, dark chocolate
50ml boiling water
1 tsp vanilla extract
65ml whipping cream
Method:

Melt the chocolate in a pan over a bain-marie, being very careful that no water gets into the pan, take off the heat once melted and add the vanilla extract.
Add the water to the pan, slowly and carefully so that the chocolate doesn't split and mix.
Fold the whipping cream into the mixture. It should now be the consistency of crème anglaise.
Spoon into small ramekins or glasses and leave to cool in the kitchen for 30 minutes before moving to the fridge until you are ready to serve them.
Best wine: Framboise. This sweet dessert wine will compliment the bitterness of the dark chocolate.
This three course menu is sure to impress your date, without setting yourself too much of a challenge.
Related Articles
How some star couples met
Most celebrities, surprisingly enough, didn't meet down at the local nightspot. Here's how five of the biggest stars hooked up.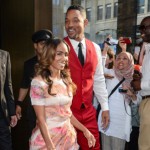 Five secret celebrity weddings
Here are some of the stars who kept their nuptials away from the glare of media intrusion.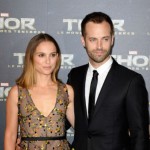 Five unusual celebrity courtships
How did these celebrities meet? Find out in out latest blog.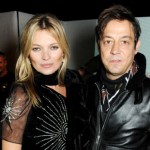 Five most outrageous celebrity gifts
What did these stars get for Christmas?