A New York financial services employee, known only as "Dave", decided to organise his online dating prospects in the way he knew best - he created an Excel spreadsheet to track the progress from his first impressions based on their dating profile, through to the outcome of any actual dates.
Unfortunately for Dave, he forwarded his work to Arielle, another Excel geek, and one of the prospects in his spreadsheet. Which is how details of Dave's complicated love life came to be poured over by bloggers and bored office workers throughout the world.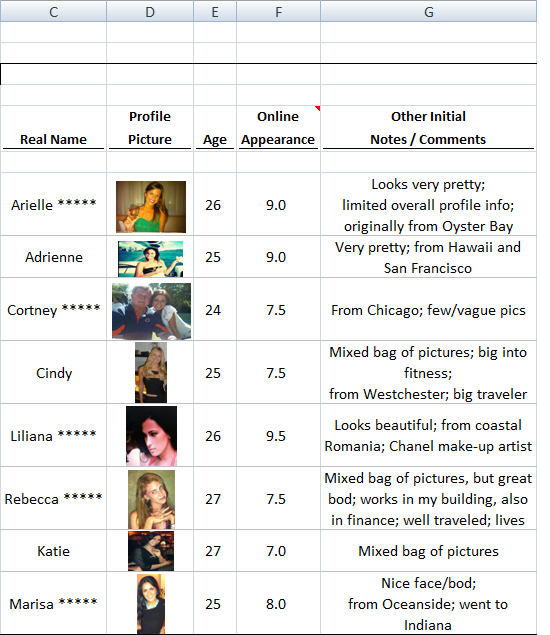 Dave used his spreadsheet skills to include time-saving features, such as drop-down lists for quickly selecting age and appearance.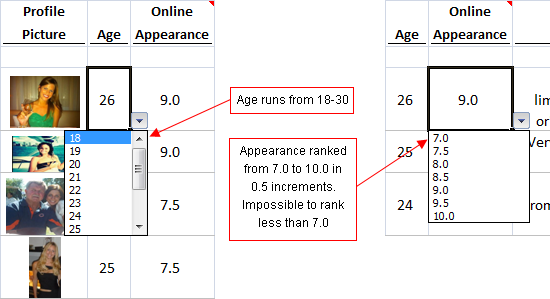 Whilst he didn't go as far as embedded formulae, linked graphs or pivot tables, he did add annotations to each column heading with a more detailed explanation of the data within.

The spreadsheet reveals intriguing details of prospects including Cortney from Chicago (7.5, stood Dave up, "at hospital with friend"), Rebecca from Lower East Side (7.5, cancelled, "work related") and Marisa from Oceanside (8.0, "nice bod... very jappy").

According to news website Deadspin, Dave emailed the spreadsheet to Arielle, sometime after their date on Wednesday 4th April, along with the below note:

Well...this could be a mistake, but what the hell. I thought about deleting the names, but figured I might as will give you the whole thing. I only deleted the non-match people's names (at the bottom) since some I've known for a long time. I hope this e-mail doesn't backfire, because I really had a great time and hope to hang again soon :). However, I will keep my word! Have a great weekend!

By the following Monday, Arielle apparently couldn't resist the urge to share with her girlfriends:

Hi Girls,

Wanted to pass this on to you for some monday morning entertainment.

I went on a date with this guy last wednesday. On the date, he tells me that he has a spreadsheet for tracking all of the people from match that are "in process". Naturally, I tease him and ask him to send me the spreadsheet. For some strange reason, he actually does. See below/attached. Just when I thought I had seen it all....

Gossip website Jezebel managed to get an interview with Dave himself:

"I work with spreadsheets a lot," he told them. "It's a great additional tool. I work long days, go to the gym, go out on a couple of midweek dates or what not, get home late...how am I going to remember them? I'm not. So I made the spreadsheets. My comments aren't malicious or mean. This was an honest attempt to stay organized."

When asked why he sent Arielle the spreadsheet, Dave said: "she works with spreadsheets a lot too."