It's remarkable how our childhood desires continue to stay with us as we ostensibly negotiate the adult world, dealing with bosses and mortgages and ill-advised payday loans. For some people it's lying in bed for a minute after the alarm has gone off and thinking about pinging one into the top corner at the Stretford End while the crowd roar their name.
For others, it's dressing up as a wizard every second Saturday and going down the park to mess around in the bushes with other people in similarly esoteric garb, startling toddlers.
More commonly, it's thinking back to a juvenile crush on a celebrity and wondering what they're up to now, whether if you bumped into each other on the Tube your eyes might meet... However, behind every blu-tacked boy band poster on your bedroom door lies a series of reasons why going out with a pop star might not be the fairytale it seemed at the age of 13.
Being pursued by angry mobs of teenagers
Adolescence and the period shortly after it has been described as a good time for creative endeavours, because of the intensity of feeling teenagers bring to the world and the uninhibited way in which they react to it.
This is all well and good if you're Rimbaud, but in reality this intensity manifests itself in dead-eyed girls swarming around One Direction like a horde of glittery zombies.
"Obviously the excitement builds up too much for some on the night and they get a bit... crazy," band member Niall Horan told Digital Spy, sinisterly.
So the next time you think about hanging off Liam Payne's arm, bear in mind that you'll have to fight off a gaggle of screaming teenagers to get to it.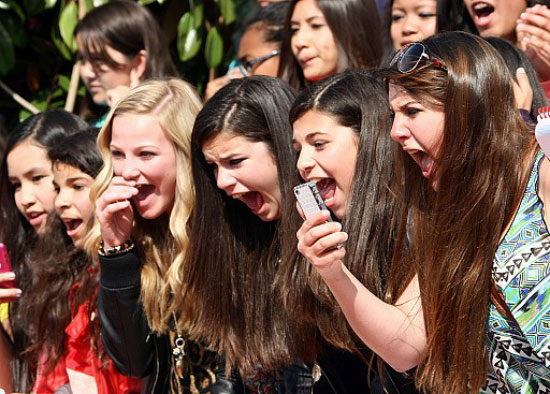 Some terrifying One Direction fans
Violent threats
When Harry Styles - arguably the most lissom ephebe in the One Direction gang - began a controversial relationship with X Factor presenter Caroline Flack, the 32-year-old met with a torrent of abuse from fans of the band.
Under the impression that the only thing stopping them and Harry from like totally getting married and going to live on a pony farm in Sussex was his fling with Flack, these fans warned her to stay away from the object of their affection.
The same treatment was meted out to Pixie Geldof, Lucy Horobin and other women who dared be seen talking to, looking at or touching Styles.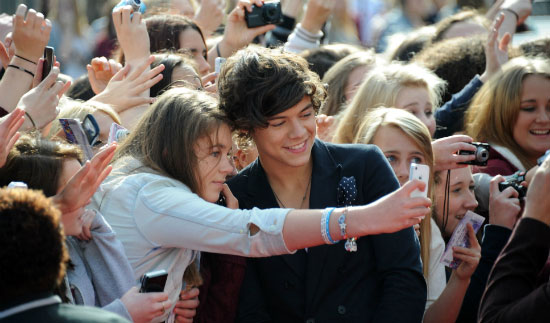 Who knows what she's showing him a picture of. (Getty Images)
Arguing over beauty products
Boy band members tend to fall into certain categories - the angelic, boy-next-door one who looks as though he'd buy flowers on the first date, the scruffy, obviously-rebellious-because-he-has-a-visible-tattoo one who looks like he just needs the love of a good woman to stop him from hanging out in pool halls, the slightly chubby one who nobody really fancies.
One thing they all have in common, though, is an intense reliance on grooming products, especially exotic hair gel. No girl wants to come home to find her boyfriend slumped on the bed daubing different shades of tinted moisturiser on his chest.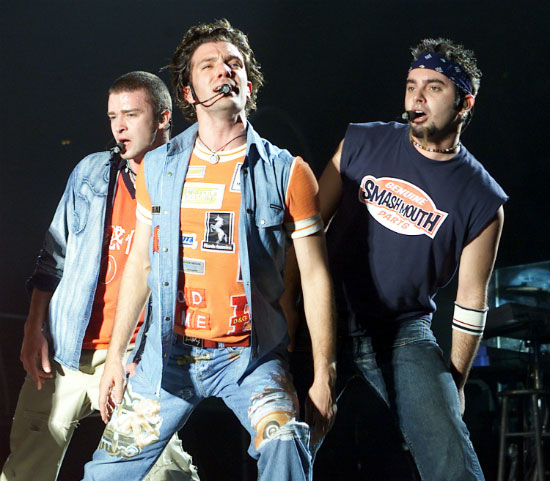 You know that hair doesn't look after itself. (Getty Images)
The mid-career slump
The nature of boy bands is that they have a limited shelf life. Given that their target demographic tends to be girls in their early teens, their appeal dwindles the older they get until they reinvent themselves as grizzled crooners a la Take That.
Gary Barlow was a heart-throb during his early days in the group, but endured a long period in the wilderness after the band fell out of the limelight before coming back to prominence.
After enjoying the glitz and glamour of dating someone famous, the next ten years might involve driving to village fetes to cut the ribbon on statues of famous dogs and eating family-sized Toblerones in bleak northern service stations.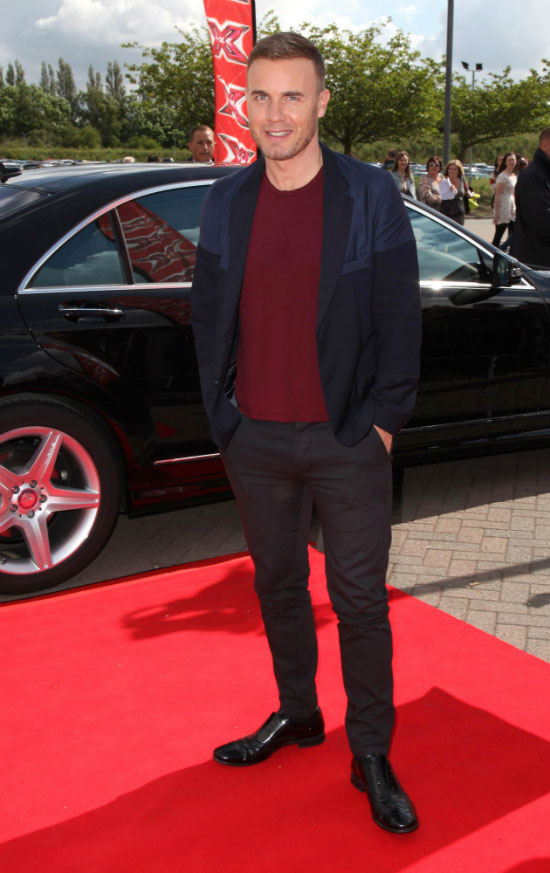 Gary Barlow, the style icon of every 30-something men browsing the sales rack in Burtons. (Getty Images)
Louis Walsh
If you're in any way involved with a boy band, Louis Walsh will at some point become a part of your life. Having managed Boyzone and Westlife to vast international success, the X Factor judge also mentored JLS as part of the show in 2008.
Imagine having to spend an evening in a Jacuzzi with Simon Cowell and Louis Walsh, listening to them talk about how buying a car made out of solid gold is actually a surprisingly inexpensive endeavour and eating quails eggs boiled in orphans' tears.
Ultimately, the good looks and charming bass voice aren't worth it if this is the kind of company you need to keep.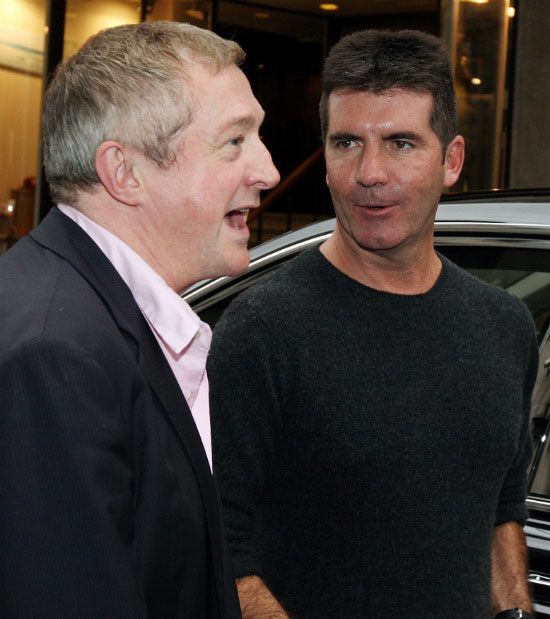 Louis Walsh and Simon Cowell having a great time. (Getty Images)