Meeting that special someone, falling head over heels in love and then spending the majority of you life blissfully married is a sequence of events that many people hope to experience; however, as we should all know by now, such dreams are very often elusive for one reason or another and things sometimes don't go to plan. In fact, for some people around the globe, that special someone is actually something...
1. A Dog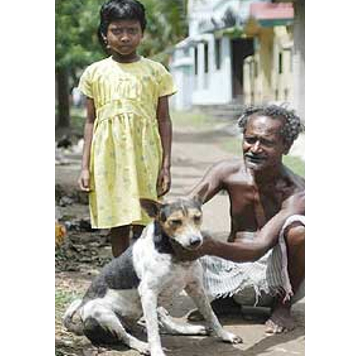 In June of 2003, an 11-year-old girl by the name of Karnamoni Handsa had no option but to marry one of the area's stray dogs in a ceremony attended by approximately 100 excited guests. Handsa, a resident of Khanyhan in India, reacted surprisingly well to the situation and said to news reporters at the time: "I have no regret in marrying the dog Bacchan. I am fond of the dog who moves around our locality". She had taken Bacchan's paw in marriage in order to ward off an evil spell that had previously caused a tooth to become painfully lodged in her upper gums.
2. A Snake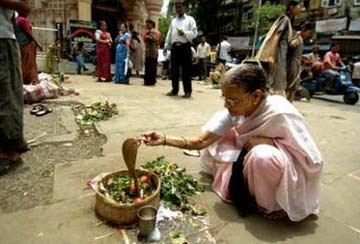 In 2005, 2,000 guests attending a wedding in Atalla, India, were left temporarily disappointed when the groom - a cobra - failed to show at his own ceremony. Determined not to let a case of 'cold tail' ruin her day, 30-year-old bride-to-be Bimbala Das instead continued with the vows in front of a brass replica snake. Speaking of Das' relationship with the reptile, a family member explained: "Bimbala was ill. We had no money to treat her. Then she started offering milk to the snake ... she was cured. That made her fall in love."
3. A Cow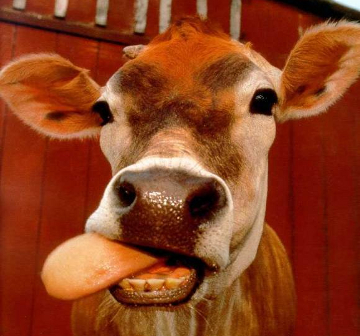 Just last month an 18-year-old man residing on the island of Bali, Indonesia, paid a hefty price after being caught in an amorous clinch with a local cow: he was forced to marry the animal to 'cleanse' the area. Despite claiming in his defense that the cow had been flirting with him prior to the incident, the wedding went ahead in front of hundreds of onlookers; such was the resultant stress, Ngurah Alit passed out at the altar. The cow was later killed for his troubles.
4. A Goat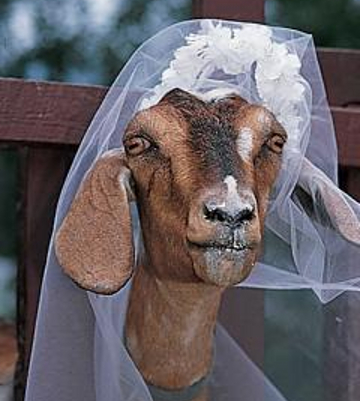 Local authorities in Juba, Sudan, furiously demanded that local goat-fan Charles Tombe marry the object of his desires back in 2006 after he was caught naked with the animal in the middle of the night. After being ordered to pay the goat's owner compensation, Tombe wed Rose in front of the local population. Sadly the next year, presumably just as the honeymoon period was beginning to wear off, Rose choked on a plastic bag and passed away. Local police reported no foul play.
5. A Dolphin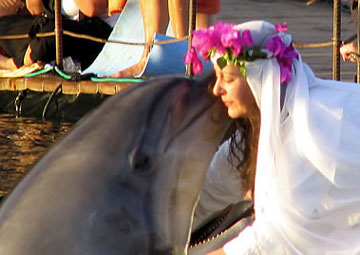 Millionaire concert producer Sharon Tendler, then 41, decided in 2005 to take the bull by the horns and marry a dolphin whilst holidaying at the Israeli resort of Eilat for the umpteenth time. Since first visiting the area 15 years previous, Tendler had been returning two or three times every year and gradually built up a strong relationship with the female dolphin, but until 2005 hadn't considered marrying the mammal in a same-sex, interspecies ceremony. After the waterside wedding, the new bride said: "I'm the happiest girl on earth. I made a dream come true, and I am not a pervert".
6. A Cat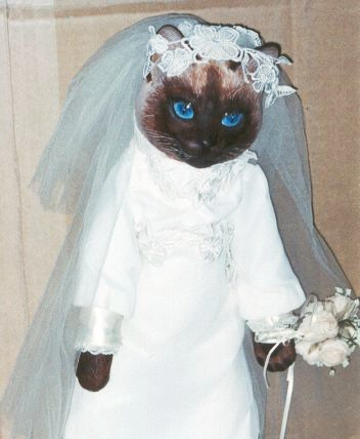 Fearing the feline love of his life was close to death due to chronic asthma and obesity, 39-year-old postman Uwe Mitzscherlich decided earlier this year to marry his cat in Possendorf, Germany. Of course, marrying a cat is illegal, even in Germany, and so Mitzscherlich was forced to pay a local actress 300 Euros to 'officiate' at the heart-warming ceremony. Speaking to journalists, the frail cat's owner/husband said: "Cecilia is such a trusting creature. We cuddle all the time and she has always slept in my bed".
This article was written by David Eaves, a 27 year old guy from Lancaster. The views expressed in it are his and do not necessarily match those of Free Dating.co.uk.