Traditionally, ever since the song Daisy Bell entered the public consciousness in the late-1800s with its famous line, "But you'd look sweet upon the seat of a bicycle built for two", the tandem bicycle has, amongst most, enjoyed a reputation as a romantic mode of transport. Such is its charm, the tandem bicycle is even a great foundation for a unique date: who can argue with a couple-powered ride down leafy country roads to a secluded picnic site?
However, the brains behind the following, bizarre examples of said pedal-driven vehicle clearly weren't looking to further that reputation. Behold, the strangest, most dangerous, funniest, unromantic tandem bicycles ever created:
1. The Sociable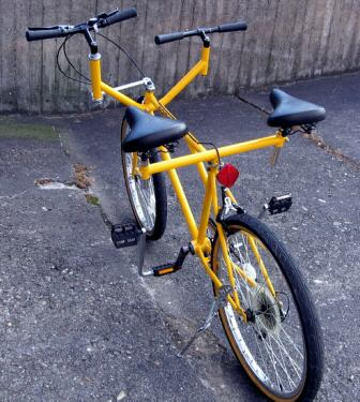 Okay, so the sociable isn't technically a tandem bicycle as the seats are situated side-by-side rather than one-behind-the-other, but it's a bicycle made for two nonetheless. Presumably, balancing on such a bicycle is no easy feat, particularly if its riders are of wildly varying weights. Below is a not-very graceful video of a sociable in action.
2. Tandem Unicycle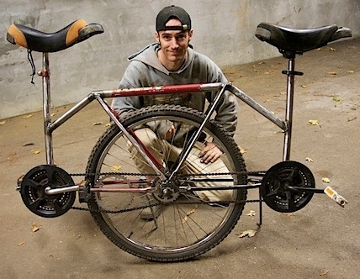 In combining two vehicles - the tandem and the unicycle, both of which are already difficult to ride - the creator of the tandem unicyle has in effect given birth to what I can only assume is a mode of transport which is nearly impossible to control at all, let alone romantically with a loved one. An attempt by its inventor to ride the thing can be watched below.
3. SeeSaw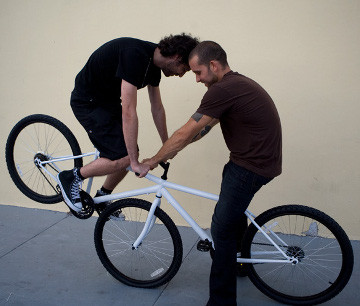 The mind boggles when attempting to come to terms with the design of the SeeSaw Bike. As if riding a tandem bike face-to-face with your partner wasn't off-putting enough, with the SeeSaw both of you are sitting at different angles. Guaranteed carnage. Unfortunately no video of the bike in action could be found; maybe because such a thing is impossible, but hopefully not.
4. Back-2-Back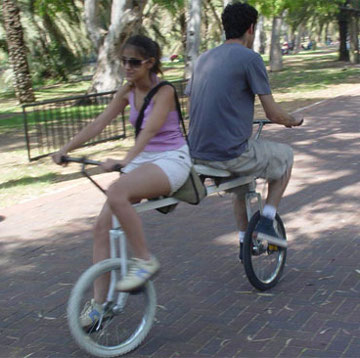 If you've ever had to sit the wrong way round on a moving train, you'll know just how odd and sometimes sickening that feeling is; so imagine just how stomach-churning it must be to ride reverse on a back-to-back tandem bicycle. The example in the photo above goes by the name of a 'Bi-Cycle', whilst the video below shows a different back-to-back tandem in action, and at quite a speed.
5. Face-2-Face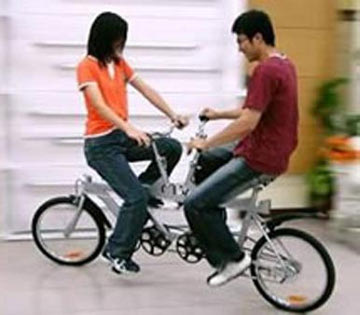 Built in 2008, Chen Yugang's bizarre but technically impressive transforming tandem bicycle has the best/worst of all three worlds, in that you have the option of riding conventionally, face-to-face or back-to-back. Due to its clever design, the bike's frame can be shifted around to accomodate either set-up.
This article was written by Shaun Usher, a blogger from Manchester. The views expressed in it are his and do not necessarily match those of Free Dating.co.uk.