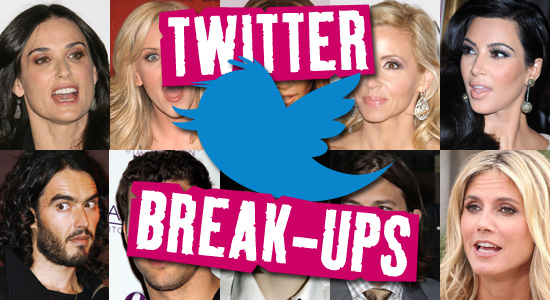 Twitter: it's not just for finding out whether Stephen Fry's having a sandwich or discovering that your favourite pop star is an idiot - it can also be an enormous digital dumper where celebrity dating meets its doom. Free Dating.co.uk looks at ten celeb relationships that ended in unhappy tweets.
Russell Brand and Katy Perry
In pre-digital times estranged couples might return their wedding rings; these days they unfollow one another on Twitter. That's what Katy Perry did in January, telling her fans that "you guys have made my heart happy again" and warning that "NO ONE speaks for me. Not a blog, magazine, 'close sources' or my family."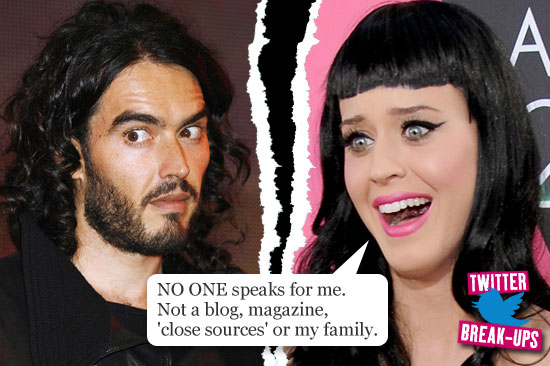 Kelly Osborne and Luke Worrall
Shy, retiring Kelly Osborne handled her split from fiancé Luke Worrall in exactly the way you'd expect: publicly. Her hundreds of thousands of followers were told that "I am not dealing with this very well :(".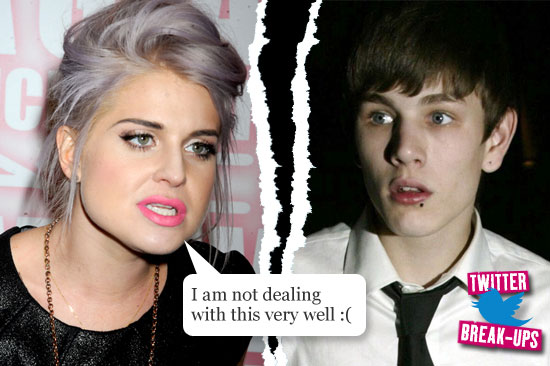 Jim Carrey and Jenny McCarthy
Some celeb break-ups are acrimonious, even in public, but Jim and Jenny handled things in a much classier way: Carrey tweeted that he was grateful "4 the many blessings we've shared" and McCarthy said she would "always keep Jim as a leading man in my heart."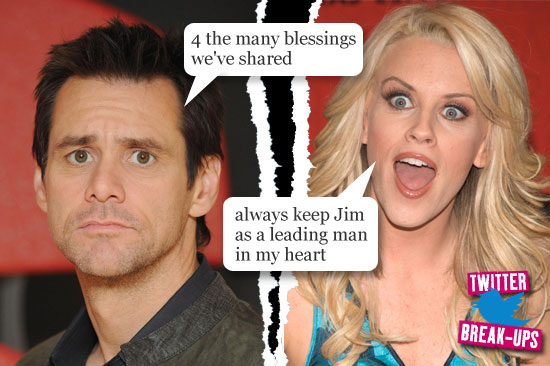 Miley Cyrus and Justin Gaston
"True love doesn't have a happy ending, because true love never ends," Cyrus wrote as she gave Justin Gaston the heave-ho. "Letting go is one way of saying I love you."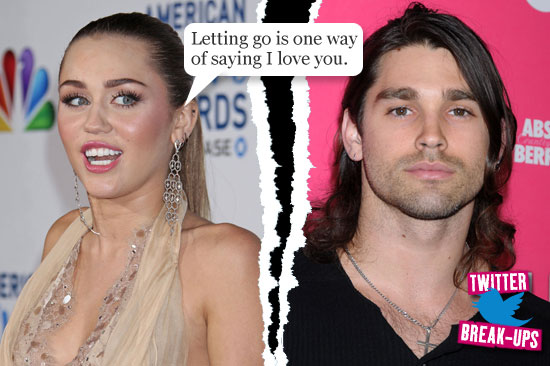 Shannon Elizabeth and Derek Hough
The American Pie actress resisted the temptation to give Derek Hough a public pie-ing, opting instead for identical tweets telling their respective followers that "we wanted you all to know directly from us that Derek and I have decided to end our relationship as boyfriend and girlfriend. However, we love & care about each other very much & will remain friends & in each other's lives."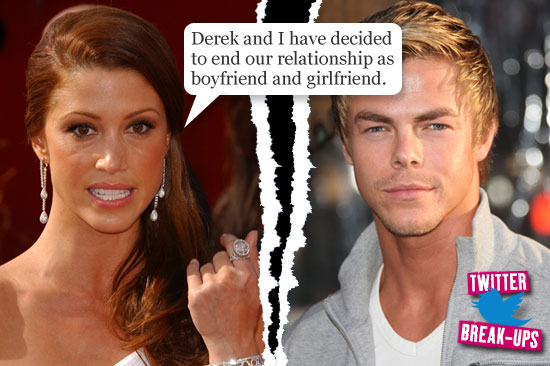 Kelsey and Camille Grammer
The veteran actor didn't want fans to hear about his impending divorce via the press, so he took to Twitter. "Hello everyone than you for ur support and Yes it's TRUE Camille and I are Divorcing I ask U 2 respect our privacy in these difficu..." he wrote, somewhat erratically, asking that his followers' tweets about his soon-to-be-ex, Camille, were kind. "She is the mother of my children," Grammer wrote.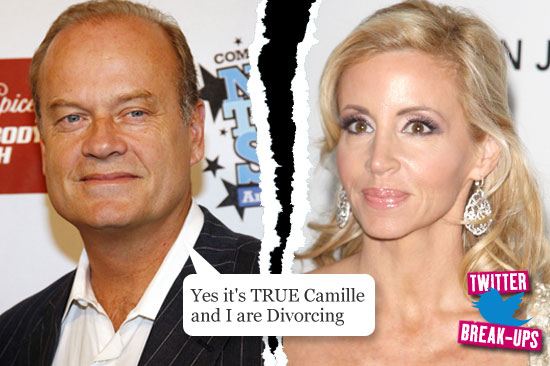 Jennifer Lopez and Marc Anthony
While J-Lo's break-up wasn't announced on Twitter, Marc Anthony used the service to hammer another nail into the relationship's coffin when he used it to announce his new relationship with model Shannon De Lima. According to the Mail Online, Lopez's Twitter post "'You know quite well,deep within u,that there is only a single magic,a single power, a single salvation&that is called loving.'#words2liveby" might have been "the American Idol judge's way of telling her ex that she is pleased he has found love once more, and harbours no resentment towards him." Or maybe it meant something else entirely.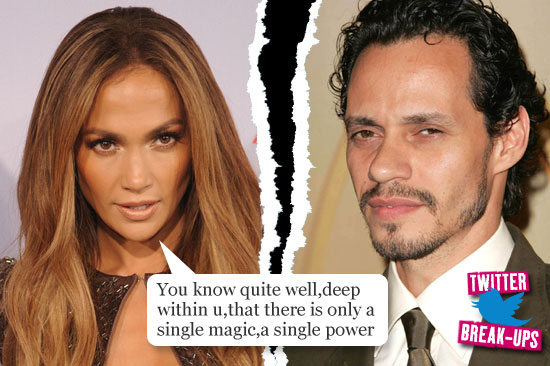 Seal and Heidi Klum
In January, Seal posted a cryptic message on Twitter: "The End". Within 24 hours it was clear what he meant, as news sites reported the end of his marriage to Heidi Klum. Klum later took to Twitter to thank fans for "all your support & kind words. Really means so much."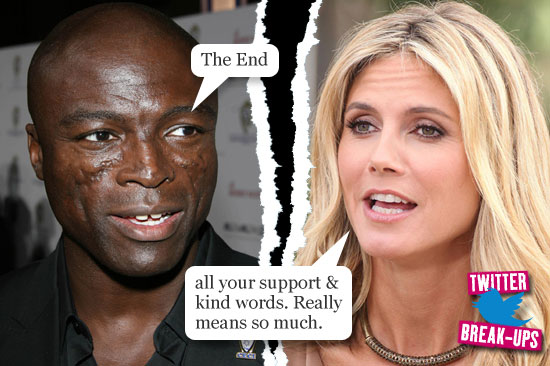 Demi Moore and Ashton Kutcher
Moore and Kutcher are prolific Twitter users, so it wasn't a surprise that Kutcher turned to the service to deny allegations that he'd been cheating: "When you ASSUME to know that wish you know nothing of you make an ASS out of U and ME," he wrote; however, a few months later the relationship was over. "I will forever cherish the time I spent with Demi," Kutcher tweeted. For her part, Moore's hanging on to her original Twitter name, @mrskutcher.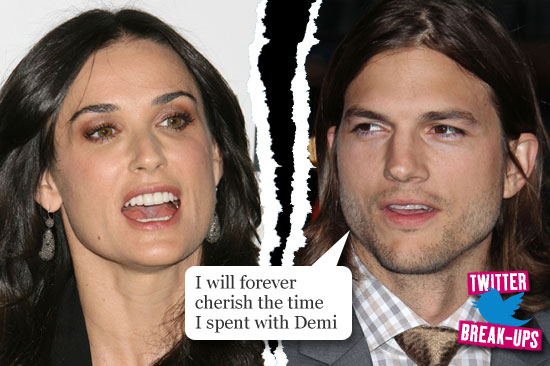 Kim Kardashian and Kris Humphries
Can't find the words to slag off your soon-to-be-ex? Why not use Kanye's? That appears to be Kim Kardashian's approach, anyway, as she tweeted lyrics from Kanye and Jay-Z's "Why I love you": "Wasn't I good king? Maybe 2 much of a good thing?... I gave u loyalty, made u royalty & royalties!" It's not all Kanye lyrics, though: in November Kardashian unfollowed Humphries on Twitter, and on New Year's Eve Kardashian tweeted "Who else is soooo ready to let go of 2011 and have the best 2012 ever!!!", which was widely interpreted as a dig at her ex.